There are a number of reasons that someone would purchase a pair of binoculars. They are perfect for bird watching, hunting and camping. When looking for the perfect pair, it needs to be well designed, should not strain your eyes, offers great magnification and is affordable. The Vortex Optics Diamondback 10×42 Roof Prism Binoculars fit the bill perfectly. They are waterproof, made of durable material and have a large field of view. In this Vortex Diamondback Binoculars 10×42 Review, we will check out the features, pros and cons and some valuable customer feedback on how they feel about the product.
Vortex Diamondback Binoculars 10×42 Review with Detail Features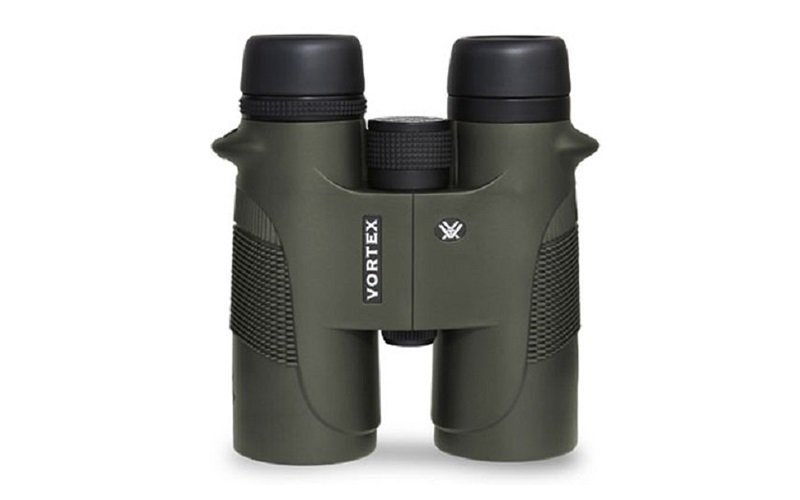 10X42 Magnification and Huge Field of View
When purchasing binoculars, you should look for something that offers great magnification through quality lenses, has a great field of view and can function in low light. The Diamondback offers these things and much more. It offers 10X magnification for those distant targets and this is through a 42mm lens. The wide field of view enables you to monitor large spaces through this compact product. The multi coating on the optics assist with light transmission. In addition, if detects objects in low light situations, perfect for those that hunt at night or camp out. These features are vital in any binoculars.
Roof Prism, Phase Corrected Coating
The roof prism on these binoculars makes them a more compact size. It also helps with the durability of the product. It has been noted that most roof prism binoculars can be costly because of this feature. This is coupled with phase corrected prism coating. When looking through a pair of binoculars, the internal reflectors tend to polarize the light paths, and when they converge again it is not a seamless image. Vortex Optics has this covered and offers phase corrected prism coating. This coating helps with contrast and resolution, which works well for any hunter or camper.
Centre Focus Wheel, Adjustable Eyecups & Diopter
In any Vortex Diamondback Binoculars 10×42 review, you will note a lot of praise regarding their convenience features. There are the adjustable eyecups which helps to keep images in focus, even when you are short-sighted. They are easy to twist for your convenience. When you want to adjust both binocular barrels at the same time, you can make use of the center focus wheel. When you look at the right eyepiece, you will notice an additional feature known as a diopter. This helps to adjust eyesight differences. This is due to the fact that your eyes rarely have the same optic power.
Waterproof and Fogproof
Binoculars, for the most part, are used in harsh outdoor conditions. This means that they will come in contact with dirt, water, snow, and all kinds of impurities. The Vortex Diamondback Binoculars 10×42 are certified waterproof and fogproof thanks to their external design and material. The O-ring seals help to keep any impurities from making their way into the internal binocular components. In addition, the argon gas purging protects from fog, which can happen as a result of temperature changes. The casing is the perfect material to ensure that it keeps the important parts of the binoculars safe and away from the elements.
Tripod-Adaptable, Case, Strap & Armor Caps
When unboxing the Vortex Diamondback Binoculars 10×42, you will notice that they come in a case that is well designed to store and protect your binoculars. The zipped case has compartments for keeping the binoculars and other components. Additional protection offered is rubber armor caps to protect the lens and the eyepiece. They bend easily, meaning that they cannot break.
One additional feature is the tripod adapter found between the barrels. This is perfect for those who want to place the binoculars in a fixed position. If you prefer, you can carry the product around your neck thanks to the provided Vortex strap.
[easyazon_link identifier="B004803YTW" locale="US" tag="azhunt-20″]>>> See Specifications & Read Customer Reviews on Amazon! <<<[/easyazon_link]
PROS:
Roof prism for a compact design.
Protective case to store the binoculars.
Wide field of view and great magnification.
Eyecaps and diopter are beneficial to someone that is short-sighted – no need for glasses.
Multicoated for light transmission and can focus on objects in low light.
Strap for easy carrying.
Lifetime warranty.
CONS:
The eyepiece caps can get lost as they are not attached to the binoculars.
While tripod adaptable, you must purchase it separately.
Pro campers feel that the case is too big, but it is well built to protect the binoculars.
Frequently asked questions (FAQs)
Q: Can these be used for astronomy?
A: You could try, but astronomy lenses need to be at least 50mm for better views.
Q: Do I have to wear glasses when using these?
A: You do not have to. You can use the adjustable eye caps and diopter for up to 16mm eye relief.
Final Verdict
As far as this Vortex Diamondback Binoculars 10×42 review goes, these are one of the best and most compact binoculars to take with you on that hunt or camping trip. They have adequate light transmission that is perfect for night or low-light vision. The protective case has a great design and is easy to carry around, and if referred you can opt for the carrying strap. Because of the conditions one can encounter while out in the field, the waterproof and fogproof features means that your binoculars will not be destroyed by the elements. The Vortex Diamondback Binoculars are affordable as far as roof prism binoculars go and they are available on Amazon.
[easyazon_cta align="center" identifier="B004803YTW" key="tall-orange" locale="US" tag="azhunt-20″]
Read Customer Reviews & Buy it on amazon.com
If you don't like these binoculars, check out these other Top Hunting Binocular Reviews with Buying Guide.