Are you looking to purchase a crossbow for hunting purposes? If you are, this post is here to guide you safely through the entire process. Below we have a fine list of concise and unbiased reviews of some of the best hunting crossbows currently available on the market to help you make a well educated purchasing decision. These bows come loaded with appealing features and add-ons that will take your hunting adventures to a whole new exciting level.
TenPoint Venom Xtra Crossbow Package with RangeMaster Pro Scope, 6 Pro Elite Carbon Arrows, and Instant Detach 3-Arrow Quiver

Tenpoint's Venom Xtra Crossbow Package is one of the ideal precision instruments for any avid shooter or hunter who means business. This crossbow can be purchased in two different cranking systems: the ACUdraw and ACUdraw 50, both of which make cocking the instrument almost effortless. The only difference being that the relatively enhanced ACUdraw 50 reduces your draw weight by an impressive 50%. The Venom's woven carbon fiber barrel makes it comfortably light and easier to manipulate without sacrificing much in terms of durability. And thanks to the Venom's heirloom-quality stock and XLT bow assembly, not only can you assemble the crossbow rather easily, but you can also have a good-looking, high-performing shooting instrument.
With an embroidered soft case, you can store the crossbow and even transport it from one location to another unencumbered. A RangeMaster Pro-View Scope takes your sight way into the depths of the hunting terrain, thereby putting the odds of making a catch in your favor. And with six 20-inch pro-elite carbon arrows, you can rest assured that your arrows are light to carry around, yet extremely durable and efficacious at putting down the prey. Also, six arrows are fairly adequate for getting the job done. The Venom's 3-arrow instant-detach quiver offers a great deal of flexibility to shooters who would like to quickly and silently hang their quivers while in their tree stand thanks to the quiver's flexible rubber loop. The crossbow also comes with a string and noise dampening system, consisting of mostly rubber, which debilitates the string's vibration with no negative consequences for the accuracy and speed of the arrows when you shoot. The Venom is 35 inches in length, 17.6 inches in uncocked axle-to-axle width, 13.3 inches in cocked axle-to-axle width, and weighs 6.7lbs without its accessories. It has a power stroke of 13.5 inches and a draw weight of 185lbs, both of which work together to give terrific speed and efficacy to your arrows.
>>> See Specifications & Read Customer Reviews on Amazon <<<
PROS
The Venom shoots an arrow with an impressive speed of 372 feet per second, making it excellent for hunting.
It possesses a draw weight of 185 pounds, which produces 114 pounds of kinetic energy good enough to take down any game you can think of.
It comes with a powerful scope, which is able to sight your target from as far as 60 yards.
It also comes with a Dry Fire Inhibitor (DFI) to ensure both the safety of the hunter and the bow.
The ACU50 draw cocking mechanism makes the cocking of the weapon extremely easy.
It comes with an easy-to-detach three-arrow quiver and six twenty-inch extra arrows.
The package comes with an instructional DVD to guide you through its usage.
It is outfitted with a non-slip rubber butt plate, so you can rest the bow on your shoulder very comfortably.
It is very durable, light in weight, compact and easy to use. In fact, this gear can be used by both a beginner and professional hunter.
It comes with protective case.
The crossbow is supported with a lifetime warranty whereas the cocking devices, bow limbs and the scope are covered under a five-year warranty.
CONS
It is a very expensive crossbow.
Read Customer Reviews & Buy it on amazon.com
Ravin Crossbows R15 Predator Crossbow Package – Camo
The Ravin R15 Crossbow is widely regarded as the epitome of speed, power, and accuracy combined in on fine, portable shooting equipment! This crossbow boasts of an arrow speed of 425 feet per second, which is not only the fastest in this list but also one of the fastest in the industry. A power stroke of 13 inches provides sufficient force to power your arrows. So do an uncocked axle-to-axle width of 10.5 inches, and a cocked axle-to-axle width of 6 inches. With a draw force of only 12 lbs., users need not exert too much energy when it comes to cocking and uncocking the Ravin R15's strings. The Ravin R15 has an impressive kinetic energy of 160ft lbs., which is higher than your average crossbow in a crossbow world where speed can be everything. Powered by a Helicoid Technology, the Ravin R15 not only gives arrows the speed of a bullet and shoots with the accuracy of a rifle, but it also ensures a frictionless flight of arrows. Such friction-free flight saves you a lot in repair/replacement costs by preserving the lifespan of the crossbow's spring and cable. What's more? The crafters of the Ravin R15 have designed it like a rifle, making it incredibly easy and efficient to manipulate. Included in the package are 6 Ravin-branded arrows with Ravin nocks, which fully engage the string to preclude dry shots that can precipitate injuries and damage to both the user and the string. There's also a built-in cocking mechanism that takes the difficulty out of cocking the weapon.
A 100-yard illuminated scope enhances your vision, which improves your prospects of accurately and lethally hitting your target. Furthermore, there's a quiver for storing your arrows while you are in action. The 6-100 grain practice field tips are durable and great for practicing until you get your arrows zeroed for good. The crossbow has inbuilt sling mounts and an anti-dry fire mechanism to ensure the safety of the user. The Ravin R15 weighs 8 lbs. and measures 34.5x12x14 inches.
>>> See Specifications & Read Customer Reviews on Amazon <<<
PROS
The crossbow fires an arrow with a mesmerizing speed of 425 feet per second!
With a draw force of 12 pounds, it is able to generate kinetic energy of 160 pounds which is enough to take down your prey completely.
Its small and narrow construction makes it easy to carry and use.
It comes with a quiver, inbuilt sling mount and 6-extra arrows.
The 100-yard scope that comes with this weapon is very durable, extremely powerful and illuminated.
It comes with an anti-dry firing system to ensure hunter and gadget safety.
It boasts of a detachable cocking mechanism, which makes cocking and de-cocking very easy and safe.
Despite its immense power, the Ravin R15 is one of the lightest crossbows you can find on the market.
It employs a HeliCoil technology to bring about great balance and well leveled cams for high accuracy, top speed and power.
It features a unique trigger system, which aids in accuracy.
It is supported with a 5-year limited warranty.
CONS
It is very expensive.
The 5-year warranty could have been made longer based on how expensive the crossbow is.
Read Customer Reviews & Buy it on amazon.com
Ravin R9 Crossbow
If you are looking for a high-end crossbow that has incredible downrange accuracy, a high velocity and enormous force, the Ravin R9 Crossbow is here for you to consider! This crossbow has a power stroke of 13 inches, providing adequate force to launch your arrows and have them do an effective job. With a string that possesses a draw force of just 12 lbs., this crossbow can be cocked even by users with minimal arm strength. And what's more, the crossbow's built-in cocking mechanism makes cocking more convenient than ever. The R9 has an arrow velocity of 390ft per second, a cocked axle-to-axle width of 6 inches, an uncocked axle-to-axle width of 10.5 inches, and a kinetic energy of 135ft lbs., all of which contribute to a significantly rapid movement of the arrows it fires. Another amazing feature of the R9 is that it's powered by the renowned HeliCoil™ technology – a state of the art technology that not only makes arrows as powerful, accurate and lethal as bullets but also prolongs the life of your crossbow's cable and spring by ensuring that the arrows are launched with very minimal to no friction. This translates to tremendous savings in replacement costs for you.
The R9's inbuilt sling mounts make it extremely easy to mount slings on it. Even better, the slings are hung on the shoulder so that the user doesn't end up carrying the crossbow in his/her arms all day, and getting fatigued by it. And thanks to an anti-dry fire mechanism that comes with the R9, you can rest assured that your crossbow won't shoot when you don't intend to. Weighing 8lbs. and measuring 34.5x12x14 inches, the Ravin R9 is designed to be held like a gun, making it easy to work with. In the crossbow's package, you will find a 100-yard illuminated scope for enhanced vision during your shoot; a quiver for storing your arrows; 6 durable 100-grain practice field tips; and 6 Ravin-branded arrows with nocks.
>>> See Specifications & Read Customer Reviews on Amazon <<<
PROS
The R9 releases arrows with a blistering velocity of 390 feet per second.
Employing a draw force of 12 pounds, the bow is capable of impacting a kinetic energy of 135 pounds.
It is smaller and narrower than many other crossbows in its category, thereby making it very mobile.
The incredibly powerful, illuminated scope makes targeting and precision highly possible from a distance as far as 100 yards.
An anti-dry firing mechanism is present to avoid gadget damage and ensure hunter safety.
It is manufactured with a removable cocking system that is so easy to operate with the application of very little force.
It ranks as one of the light-weighted crossbows you can find on the market.
It boasts of outstanding balance and well leveled cams for great accuracy, speed and power.
It features a unique trigger system which aids in accuracy and frictionless motion of your arrow.
The overall design is very attractive.
It is protected under a five-year warranty.
CONS
It is a really expensive weapon.
Considering the hefty price tag accompanying the weapon, a five-year warranty is pretty short.
Read Customer Reviews & Buy it on amazon.com
Barnett Ghost 420 Crossbow
With the Ghost 420 Crossbow from Barnett in your possession, your hunting experience will certainly move to another exciting level! Rated as the fastest crossbow ever invented by Barnett, the Ghost 420 sports truly amazing attributes, which many a bow hunter will desire in their adventures in the woods.
Featuring a draw weight of 185 pounds, this weapon is capable of releasing an arrow with an astonishing velocity of 420 feet-per-second, thereby producing enough kinetic energy to effectively take down your prey in a single shot. Furthermore, the Ghost 420 comes accompanied by one of the most powerful illuminated scopes in the industry for proper and accurate glassing.
Another significant feature of this weapon is the frictionless release tech trigger system which employs a free floating-roller amid the trigger and the sear to bring about a smoother and lighter trigger pull, there making it one of the best trigger systems available on the market.
As if that isn't enough, the powerful anti-dry-fire mechanism and nock sensors fitted into the bow prevent an arrow that is improperly placed from firing and damaging the bow or causing injury to the shooter or anyone nearby.
Also, the carbonlite riser and the machined aluminum track, which the Ghost 420 has been engineered with, work hand in hand to aid you to stalk and wait for your game as it makes it gradually into your target.
Other outstanding qualities of this weapon include a rubber pad at the rearmost part (butt) of the weapon, which is designed for you to rest the weapon comfortably on your shoulders; a quiver for keeping extra arrows; and the ability to be easily used with various kinds of crank cocking devices.
Another cool attribute of the Ghost 420 is its string dampeners that help in significantly cutting down the noise produced by the bow upon firing. This is a very useful attribute as it prevents you from spooking your prey with noise.
And lastly, the weight of this device is just 7.25 pounds, making it one of the lightest crossbows available on the market.
>>> See Specifications & Read Customer Reviews on Amazon <<<
PROS
It rockets arrows at a velocity of 420 feet per second.
It comes with a draw weight of 185 pounds and kinetic energy of 149 ft lbs, capable of effectively killing various kinds of animals.
It has a trigger system that is considered one of them in the industry.
It is very light and compact.
The weapon's rubber butt pad makes using it very comfortable.
It is very easy to assemble and use.
It boasts of an anti-dry-firing mechanism for your protection as well as that of the weapon.
It is compatible with crank cocking devices.
It comes with a very powerful scope that is illuminated.
It is very powerful and accurate.
It comes with carbonlite riser that makes handling and usage very comfortable.
The Ghost 420 is covered by a 5-year limited warranty.
CONS
It is an expensive weapon.
Some customers complain that the front end of the bow is a bit heavy for their liking.
For the weapon's price tag, it is pretty disappointing that it doesn't come with a crank.
Read Customer Reviews & Buy it on amazon.com
Tenpoint Turbo GT Crossbow
The Turbo GT Crossbow manufactured by Tenpoint is one of the best weapons of choice for hunters and shooters who place a high value on stealthy, noise-free operations. This renowned hunting crossbow, which is the proud winner of the 2016 Game & Fisher Reader's Choice Award, comes with a power stroke of 12.6 inches that provides a copious amount of force to propel your arrows. With an arrow speed of 360fps and a kinetic energy of 107ft. lbs., the Turbo GT is an ideal instrument for nocking down your prey without it even realizing or anticipating it. The Turbo GT has a Fusion S Stock, ACRA-ANGLE barrel, and 13.5 inch XLT bow assembly, which contribute to its impressive force and performance. A 3x ProView 2 scope fills you in on the details of your target and increases your chances of making an accurate shot all the time.
With a 3-arrow instant-detach quiver, hunters and shooters can enjoy some flexibility when it comes to silently hanging their quivers in their stands. The Turbo GT comes with 3 20-inch pro elite carbon arrows, which are very durable and yet light enough to move at great speed. Furthermore, this crossbow's ambidextrous side-mount quiver bracket makes it possible for users to mount the quiver on either side of the stock. And this gives you a lot of room to maneuver while you are in deep action. The Turbo GT can be purchased in any of these three cocking styles: ACUdraw, ACUdraw 50 and Rope Cocker. Any of these cocking mechanisms take the pain and difficulty out of stocking the crossbow, the last two reducing your draw weight by 50%. This means that even a little kid can cock the crossbow with minimal difficulty. The crossbow has an axle-to-axle width of 17.5 inches when uncocked; a weight of 6.5lbs. when without its accessories; a draw weight of 175 lbs.; and a cocked axle-to-axle width of 13.5 inches.
>>> See Specifications & Read Customer Reviews on Amazon <<<
PROS
The Turbo GT has a draw weight of 175 pounds.
The bow has the ability to rocket arrows with a blazing velocity of 360 fps.
It comes with an instant removable arrow-quiver capable of holding 3 arrows, 3 twenty-inch carbon arrows plus side-mount quiver bracket.
It comes with an impressive cocker system that greatly reduces the bow's draw weight.
It comes with a dry-fire inhibitor, which prevents the bow from firing when unloaded.
It is lightweight, compact and very easy to assemble.
It comes with a hi-tech scope.
It is covered with a lifetime warranty.
CONS
The paint on the scope tends to scratch pretty easily.
Read Customer Reviews & Buy it on amazon.com
Excalibur Matrix 380 Crossbow
Reliability, functionality, and blazing speed are the defining characteristics of the Matrix 380 Crossbow produced by Excalibur. This recurve crossbow is more potent, silent, and compact than most of its peers in the Excalibur collection of crossbows. A Realtree 3800 camouflage finish is very helpful for operating undetected since it blends effortlessly with the leaves and shrubs of the forest or shooting terrain. An arrow velocity of 380fps means that your target will get knocked down rather quickly, and will not know what had happened to it by the time it takes its last breath. With a draw weight of 260lbs., which is much higher than that of most crossbows on the market, your arrows will receive tremendous amounts of force, with which to launch. The same can be said for the Matrix 380's 13.1 inches power stroke. Draw weight of 260lbs will naturally pose some difficulty for users who want to cock the crossbow, which is why its designers have included a rope cocking aid. This device reduces the draw weight by almost 50%, making it less difficult to cock. The Matrix 380 also boasts an ergo-grip stock, which not only ensures a much firmer and comfortable grip of the instrument but also greater control of it for maximum performance. Included in the crossbow's package is a Tact-zone scope, which greatly enhances your view of your target, thereby increasing your likelihood of lethally hitting it with your arrow(s). Talking about arrows, the bow comes with a 4-arrow detachable quiver, which can be hung in your stand, giving you some flexibility in your operation. The Matrix 380 comes with 4 Diablo arrows, which are durable and effective for knocking down your target. Also included are 4 150 grain field points, with which you can practice shooting until you zero your arrows. Finally, the crossbow is easy to assemble, thanks to its simple and user-friendly nature coupled with the informative manual that comes with it.
>>> See Specifications & Read Customer Reviews on Amazon <<<
PROS
Having a draw weight of 260 pounds, this crossbow can shoot arrows with a fantastic speed of 380 feet per second.
It has a lightweight and compact construction.
It is currently the quietest crossbow in Excalibur's impressive line of crossbows.
The illuminated scope it comes with is powerful and can be easily adjusted to help you make accurate and on-target shots.
Thanks to its anti dry fire system, it is not possible to dry fire this bow.
It comes with a rope-cocking system.
It comes with a lifetime warranty on manufacturing-related defects.
The Realtree Xtra® Camo design helps in assisting you to remain hidden from game animals.
CONS
The cocking aid would have been better if it were a little bit longer.
Read Customer Reviews & Buy it on amazon.com
Excalibur Micro Suppressor Crossbow
Very few crossbows can match the stealth and maneuverability that the Micro Suppressor Crossbow produced by Excalibur offers. Apart from the impressive accuracy that it gives your shots, this crossbow has a sound-deadening mechanism made of Recoil Energy Dissipation System [R.E.D.S.] which is designed to enhance the shooter's comfort by absorbing things such as noise, vibration, and recoil during firing. With an arrow velocity of 355fps (feet per second), you can rest assured that operating at an incredibly high speed won't be a problem for you. What's more? The Micro Suppressors crossbow's draw weight of 280lbs. and a power stroke of 10.2 inches makes a lethal combination for powering your arrow shots and making them truly count. Thanks to a fine camouflage finish, you can now blend in so well with the forest, making you totally undetectable to your target. The Micro Suppressor crossbow comes with a Tact-Zone illuminated scope, which takes your eyesight to extraordinary heights, helping you to perceive important details about your target. The crossbow's anti dry-fire system saves you from dry-firing the crossbow and possibly damaging the weapon or harming yourself or other hunters near you. Another very cool item in the Micro Suppressors crossbow's package is an ambidextrous cheek piece, which can provide you with some comfort as you lie in wait to shoot at your target. A 3-arrow quiver with Picatinny bracket; 3 quill arrows; and 150 grain field pointers are extra items that come with this crossbow. Lastly, this Micro Suppressor crossbow, which has a total length of 31 inches, comes with a fantastic rope cocking aid that makes cocking the crossbow absolutely easier and more convenient.
>>> See Specifications & Read Customer Reviews on Amazon <<<
PROS
The velocity of this gear is 355 feet per second.
It produces enough kinetic energy to take down your game using a draw force of 280 pounds.
It is silent, easy to assemble and compact.
It weighs only 5.4 pounds, which makes it one of the lightest you can get on the market.
It employs the impressive R.E.D.S. mechanism that absorbs a significant percentage of the vibration, recoil, and noise produced during firing.
It comes with an illuminated scope to assist you in glassing and firing more accurately at your target.
It features a rope-cocking mechanism to help you easily cock and de-cock your bow.
The overall design is attractive.
The camo pattern aids you to blend with your hunting environment.
The bow is protected by a lifetime warranty.
CONS
The price is quite hefty.
Read Customer Reviews & Buy it on amazon.com
Barnett Ghost 375 Crossbow
There is nothing more pleasant than going on a hunting expedition with one of the best-hunting weapons that you can get on the market. We are referring to the Barnett Ghost 375 Crossbow, which comes with many brilliant features. Some of the outstanding features of this impressive hunting tool include its exceptionally lightweight construction and durability. With an overall weight of 7.1 lbs., the Barnett Ghost 375 comes with the renowned Carbonlite Riser Technology (CRT) that makes it compact, light and easy to carry around in the woods.
Since speed is a very important feature when it comes to crossbows, the manufacturers of the Ghost 375 equipped it with a speed of 385 feet per second, which is outstandingly fast!
Another advantage that you derive from owning the Ghost 375 crossbow is that you are able to fire shots that are quiet and free of vibrations; this is because it (Ghost 375) comes with one of the most impressive anti-vibration technology mechanisms in the industry.
The Ghost 375 comes with the renowned Frictionless Release Technology™, which is located between the latch and the sear. The sole purpose of this feature is to enhance the shooter's comfort by enhancing the lightness and smoothness of the metal injected molded (MIM) trigger.
The anti-dry fire and nock sensors make the Ghost 375 even safer by way of preventing un-readied or untimed shots from being taken. It allows you to properly position the arrow before shots can be taken.
In addition to all the aforementioned goodies, here are some of the super cool add-ons the Barnett Ghost 375 Crossbow comes with:
Two 20-inch shooting arrows
4×32 illuminated scope
Lubrication wax
Sidearm quiver
All in all, the Barnett Ghost 375 Crossbow is an effective hunting weapon that comes with so many amazing features that make it one of the most outstandingly effective crossbows in its category. It is great for hunting big game in a variety of broad hunting terrains.
>>> See Specifications & Read Customer Reviews on Amazon <<<
PROS
It shoots arrows at a super impressive speed of 385 feet per second.
It can be used with a crank cocking device.
It is light in weight and very compact. Hence it is very easy to move around with it.
It comes with a Realtree Max-1® camo that allows it to easily blend with the environment to keep you hidden.
It features an anti-dry fire system that prevents dry firing, thereby protecting you from injuries and the weapon from damage.
It has an anti-vibration technology that reduces both vibration and noise.
The Ghost 375 comes with a 5-year limited warranty.
CONS
It does not come with a locking mechanism.
Read Customer Reviews & Buy it on amazon.com
CenterPoint Sniper 370 Crossbow
The CenterPoint Sniper 370-Crossbow from CenterPoint is, without a shred of doubt, one of the best budget-friendly hunting crossbows on the market. The bow features a CNC-machined cam system that is paired to its quad limbs to allow arrows to fly at impressive speed levels of 370 FPS. And by the way, it is noteworthy that a speed of 370 FPS is currently considered one of the fastest in the crossbow industry!
This Sniper 370 is light, compact and very easy to carry around thanks to a variety of factors, including the fact that when un-cocked, the 370-Crossbow axle-axle width measures 22-inches wide and when relaxed it measures just 18-inches wide.
This renowned crossbow, which has a draw weight of 185 pounds, comes with a cocking device that makes cocking the weapon a lot safer and easier.
Other appealing features that the Sniper 370 proudly boasts of include string suppressors, which ensure that every shot you fire is vibration-free and as quiet as possible; a power stroke length of 13.50, which allows for fast flying arrows; and an anti-dry fire mechanism, which uses an automatic safety trigger to prevent you from taking unready or untimed shots.
In conclusion, if you are venturing into the crossbow hunting world and are looking for a very affordable crossbow loaded with great attributes to make your hunting expeditions more fun, then the Sniper 370 has what it takes to suit you much better than many others in its league.
>>> See Specifications & Read Customer Reviews on Amazon <<<
PROS
The bow shoots accurately thanks to such attributes as a foregrip that easily accommodates various styles of shooting and a highly adjustable stock.
It comes with a quality shoulder sling, which enhances its mobility.
Despite its outstanding features and specs, the crossbow comes at a very appealing price.
3 carbon bolts measuring 20" each, a four-arrow quiver, a shoulder sling, a 4×32 mm scope and a highly adjustable cocking rope are some of the impressive add-ons included in the package.
It is safe, thanks to the brilliant anti-dry fire mechanism that it comes with.
It features string suppressors that fight against vibration and reduce the noise created during firing.
The bow is backed by a 5-year warranty.
CONS
It is pretty heavy.
The scope that comes with the crossbow isn't really a great scope because of a number of issues, most notably the fact that it isn't illuminated.
The crossbow would have been better had it been compatible with cranking aid devices.
Read Customer Reviews & Buy it on amazon.com
Types of Crossbows
Crossbows come in all manners of variants. And in order to get the right one that would suit your needs in the field, there's the need to know the various types that exist and how they function. Below are some of most common types of crossbows in the industry:
Recurve Crossbow
A recurve crossbow, which is widely considered as the simplest variant of a crossbow, comes with tips that curve away from the shooter or archer. Many hunters prefer using the recurve crossbow due to its impressive simplicity. The limbs of this bow are bent, thereby giving it a longer draw length as compared to a similar bow with straight limbs. As a result of the longer draw length that accompanies a recurve crossbow, it allows for a better acceleration as well as a significantly decreased hand shock. Also, recurve bows are light and tend to be easier to maintain than other types of crossbows. However, one of the biggest downsides to these crossbows is the fact that by virtue of their design, they tend to create a lot of noise during firing. It is for this reason that the likes of hunters, archers, etc use them in conjunction with bowstring silencers to reduce the noise they create. Other common issues associated with using a recurved bow include the fact that it tends to put a great deal of strain on its entire bow structure, and does not produce the amount of speed that more sophisticated bows that come with cams or wheels produce.
Compound Crossbow
Compound crossbows come in various variants. However, they all function identically. The compound crossbow is generally more sophisticated than its recurve counterpart in the sense that it comes with limbs that feature sets of wheels or cams to facilitate the drawing of the bow. The limbs of compound crossbows tend to be very stiff – a feature that gives them the ability to store a great deal of energy for extremely powerful and fast shots. Another cool advantage of these crossbows is the fact that they do not create as much noise as recurve bows do. However, since compound bows come with multiple cables, maintaining them is more challenging than the single-stringed recurve crossbow we talked about above.
Pistol Crossbow
Pistol crossbows are considered the smallest of all the variants of crossbows available. These miniature crossbows often have an average draw weight of 80lb and fire bows at a speed of around 165 FPS (feet per second). They often come with fiberglass and strong plastic constructions. They also come with self-cocking features that make them safer and easier to use. By virtue of their very compact sizes, pistol crossbows are significantly lighter than their larger counterparts.
Bullet Crossbow/Bullet-shooting Crossbow
As the name implies, a bullet crossbow (also known as the bullet-shooting crossbow or stone-bow) is one that basically shoots bullets and stones instead of the traditional arrow shot by its counterparts. There are multiple variants of the bullet-shooting crossbow. Some are constructed with dual strings whereas others feature a single string and barrel.
It is noteworthy that despite the date of the invention not being exactly known, the bullet-shooting crossbow existed as far back as the 16th century, during which one of its main forms of ammunition was a clay ball baked to be hard enough to have the characteristics of a bullet. At that time, it was mainly used to hunt birds because the weapons of the time weren't designed to shoot birds effectively. The following centuries (especially the latter part of the 18th century) saw the bullet crossbow undergo a number of transformations to make it shoot bullets faster and more accurately.
However, the advent of more sophisticated rifles in the 19th century saw a massive decline in the demand for bullet-shooting crossbows.
So do bullet crossbows still exist today? Yes, they do, and they are used for a variety of hunting, especially wildfowl hunting.
Rifle Crossbow
Rifle crossbows are one of the most highly advanced types of crossbows you can lay your hands on. These crossbows behave just like rifles behave with regard to providing the shooter with more accurate aims. Just like the average rifle provides more accurate aim in comparison to other guns, so also does a rifle crossbow allow for more accurate aim in comparison to other crossbows. To enhance their accuracy, most rifle crossbows come with highly advanced accuracy-enhancing features, including adjustable sights and foot stirrups to allow for effortless cocking of the weapon.
Repeating Crossbow
A repeating crossbow (also called the Zhuge crossbow) is a type of crossbow, whose origin can be traced back to ancient China. A repeating crossbow is engineered with an automatic system that makes the shooting process faster and easier in the sense that in just one single movement, the shooter or archer can string the bow, load an arrow (bolt) and fire. The biggest advantage of this crossbow is that it allows the shooter to shoot at rates faster than the average crossbow would allow him/her to do. According to archaeological evidence, repeating crossbows existed as far back as the 4th century BC.

Things to Consider Before Purchasing a Hunting Crossbow
Just like you have seen from above, not all crossbows are created equally. Owing to this, you do yourself a great favor when you take your time to properly examine the specs and attributes of any crossbow before deciding to purchase it. You do this very important evaluation mainly in order to ensure that the crossbow you intend shelling out your hard earned cash to buy has all the vital things that you'd need to not only enhance your safety and comfort on the field but also your likelihood of enjoying a successful hunting adventure. Indeed, there are a number of very important things you should take into consideration before making the final decision to purchase a crossbow for hunting purposes. Below we have outlined some of these things.
Safety First
We can't stress enough on how important safety is when opting for a crossbow. By all accounts, safety is the most important thing you need to look out for when purchasing any deadly weapon. In looking out for how safe a crossbow is, we suggest you look out for two very important things: Auto Safety Engage and an Anti-Dry Fire System. Auto Safety Engage allows the safety of your bow to be automatically engaged the moment the bow is cocked. The moment your crossbow is cocked, the safety is supposed to be automatically engaged. This greatly minimizes the risk of unintentional injury or even death. Anti-Dry Fire System is engineered into many good crossbows to prevent dry firing, which is the process of releasing a bow that is drawn without an arrow in place. Dry firing your bow is a really bad idea in that it can easily cause great structural damage to your bow and also leave you or others injured.
Noise Level
Every crossbow produces a certain degree of noise. While some create very loud noise during use, others create very minimal noise. Always try going for one that produces as less noise as possible because great stealth and silence are some of the most important ingredients that contribute towards a very successful hunt.
That said, if you can't find a crossbow whose noise output isn't very loud and which suits your needs, there are a number of things that you can do to reduce the level of noise being produced by the crossbow, most notably the incorporation of dampeners into your bow. For example, you can attach suppressors to the string and limbs of your crossbow to make it quieter. You can also attach string stops to the bow to reduce the noise output it produces when fired.
Bow Speed
No matter which angle you look at it from, the speed at which your crossbow launches arrows is a very important feature you should take into consideration because it can have a really strong impact on your success on the field in terms of the ability of the arrows to hit and effectively kill game animals. In the hunting world, a crossbow that has a speed of about 350 feet per second (FPS) is considered ideal in that it significantly reduces the issue of arrow trajectory during long-distance shots, thereby increasing your likelihood of making accurate shots. It also gives the flying arrow/bolt sufficient Kinetic Energy (K.E.) to take down an animal properly and very cleanly. But what is Kinetic Energy? We hear you ask. In the world of hunting, Kinetic Energy is basically the energy that an object that is in motion possesses. All moving objects possess this energy, and speeding arrows are no exception. The K.E. of an arrow is determined by its speed and weight. And in order for a speeding arrow to ethically kill a game animal with a properly placed shot, it needs to have a sufficient amount of K.E. that can hit the vital organs of the animal and kill it as quickly as possible.
It is noteworthy that of all the various types of crossbows available on the market, compound crossbows are the best when it comes to providing more powerful and faster shots. This is why most hunters and shooters looking for speed and energy often choose compound bows over the other types.
Power Stroke
The crossbow's power stroke is another very crucial characteristic that should be considered when hunting for a crossbow. But what really is the power stroke of a crossbow? It can be defined simply as the distance the bow's string moves from a fully cocked state to an unlocked state (resting point) when a shot has been taken. The power stroke of the crossbow you choose is very important because it plays a very critical role in determining how fast your arrows/bolts fly. Generally, the longer the power stroke of a bow, the more energy the arrow receives, which translates into a faster flying arrow/bolt.
Draw Weight
Another highly important thing you should never take for granted is the draw weight of the crossbow. If you don't know what a crossbow's draw weight is, it is basically the highest amount of weight (measured in pounds) that a shooter/archer will draw the string of the crossbow back into a cocked position in order to fire the arrow/bolt from the crossbow. While crossbows have draw weights that usually range from as low as 90 lbs. to as high as 260 lbs., the draw weight of the average crossbow is somewhere in the region of 175 lbs. For example, a bow whose draw weight is in the region of 165 lb can launch an arrow at an impressive speed ranging from 300 to 400+ feet per second (FPS).
Generally, crossbows with higher draw weight values shoot arrows/bolts faster. But you should take note of the fact that the higher your bow's draw weight value, the more effort you'd have to exert in drawing its string back to cock it. It's always a good idea to go in for one whose draw weight your strength is comfortable with so that you don't exert too much energy. Typically, the higher the draw weight of the bow, the more it is unforgiving – a situation that makes the shooter prone to making lots of errors. It can also contribute to faster wearing and tearing of certain parts of the bow such as the strings and limbs.
That said, if you still insist on going for a bow with a very high draw weight beyond the comfort of your strength, you can purchase a cocking device and attach it to your bow. These devices can assist you in significantly reducing draw weight, so you can pull with very little strain. Thankfully, the market is currently flooded with all manners of cocking devices – some of which can assist you in bringing down poundage pull by even 50%, thereby instrumentally reducing the effort you need to cock your crossbow, regardless of how high its draw weight. These days, many good crossbows have these cocking aid devices as add-ons.
Note: The draw weight of a crossbow isn't the only factor that determines how fast an arrow is propelled from a bow. Things such as the bow's limb configuration, the weight of the arrow being shot, and the power stroke length also play crucial roles in determining the arrow's speed.
Weight of Crossbow
We cannot talk about the important features that you need to watch out for without mentioning the weight of your crossbow since it can greatly determine how successful or unsuccessful your hunting expedition ends up becoming. Typically, the heavier your crossbow is, the more cumbersome it is to move freely with it in the field. On the other hand, heavier the bow is, the less difficulty you are going to experience keeping it in a steady position in order to make accurate shots. When it comes to choosing between opting for a light crossbow and a heavy one, experts often advise that the best thing to do is take your physical abilities into consideration. It's never advisable to opt for a crossbow whose weight is beyond your physical strength.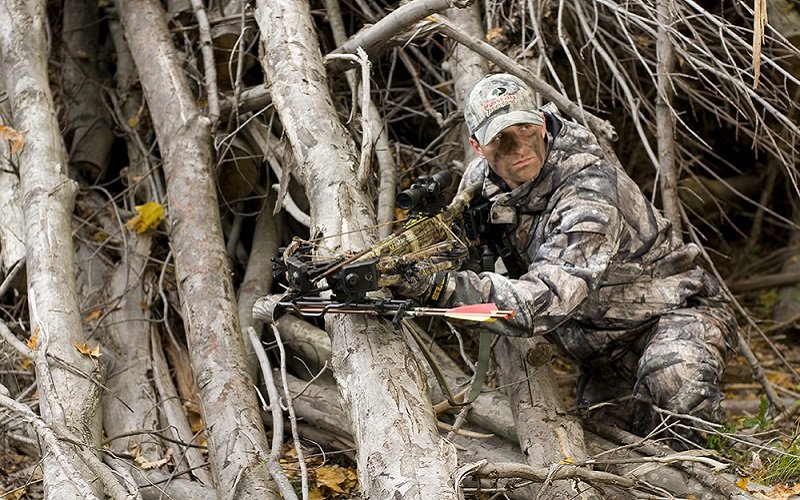 Size of Crossbow
Size is just as important as weight when it comes to ensuring your success in the woods. Carrying an oversized crossbow on a hunting trip isn't really a great idea as it would not only cause you great discomfort but it would also impede your movements. Imagine the amount of inconvenience a large crossbow would cause you when using it to hunt from a treestand?! This is why it is always a good idea to go in for a bow that is fairly compact. For a better hunting experience, specialists often recommend opting for one whose length and width are somewhere in the regions of 36 inches and 26 inches respectively. The bottom line is the more compact your crossbow is, the more mobility, freedom and comfort you enjoy in the woods.
Range
How far can you shoot that crossbow you intend purchasing? This is a very important question to ask yourself because if the range isn't long enough, you will find it extremely difficult shooting accurately enough to kill your targeted game animal cleanly. So what's an effective range for a hunting crossbow? In the planet of hunting, any bow with a range in the neighborhood of 40 yards is effective enough to get the job done properly. So look out for this when shopping.
Quality
The quality of your crossbow is also something that you shouldn't take for granted since whether you like it or not when you venture into the woods, your crossbow is going to receive so much abuse. It should, therefore, be designed with the ability to withstand all the abuse that comes its way. Generally speaking, bows that are made of metal parts tend to be more durable than their cousins that have predominantly plastic parts. If you want your bow to last for several seasons and not disappoint you, you should always look out for quality before making your purchase.
Price Tag
With every manmade thing available for purchase on the market, generally, the better it is, the more expensive it is. A crossbow isn't an exception, which is why more often than not, the better the quality and functionality of the bow, the higher the price tag. You should have this at the back of your mind when making your purchase. There are a number of important things such as speed, durability, added accessories (sights, cocking aids, etc) that play a crucial role in determining the price tag of a crossbow package. While some crossbows can cost a few hundred dollars, others cost thousands of dollars. Having said that, it is totally possible to buy a crossbow that is durable and feature-laden enough to make a day of hunting more enjoyable and productive without spending a lot!
Warranty
Since time immemorial, good products have always moved in the company of warranties. A good crossbow is no exception to this. It is for this reason why it is important to ensure that the crossbow you have chosen to buy be protected by a reasonable length of the warranty. A crossbow that comes with an impressive warranty not only lets you know that the manufacturers are confident enough to stand behind the quality of their product but it also gives you peace of mind. These days, manufacturers back their crossbows with all manners of warranties ranging from 1 year to several years. Some companies have so much faith in their bows that they even support them with lifetime warranties! Considering how expensive some crossbows can be, it is never advisable purchasing any one (no matter how good it appears) that isn't supported with a warranty.
Arrow of a Crossbow
We certainly cannot talk about crossbows without shedding some light on the arrows that complete them!
To begin with, traditional arrows are not the same as crossbow arrows. You should therefore never use them with your crossbow. There are arrows designed particularly for crossbows called quarrels or bolts. A quarrel/bolt comes with the following parts: a shaft made of carbon or aluminum; a broadhead (arrowhead), which is the sharp and lethal pointed tip of the arrow; and a nock at its rearmost part.
Broadhead
There are roughly 3 types of broadheads, namely Fixed, Removable and Mechanical (Expandable) Blades.
Fixed blade: The fixed blade, as the name suggests, is attached directly to the arrow's shaft. It is mainly used by shooters/archers shooting crossbows whose draw weights aren't very high.
Removable blade: This is a broadhead that comes with a replaceable blade. Owing to its nature, you don't need to purchase a new broadhead in the event that the blades attached to them get damaged.
Mechanical (Expandable) blade: A mechanical broadhead is widely regarded as the most sophisticated of all types of broadheads. When in flight, these broadheads expose no blades. However, upon hitting a target, their sharp blades open and cause serious damage over a wider area. By virtue of their nature, these broadheads are more suitable for hunting big game. It is advisable using these broadheads with bows that have draw weights of 50 pounds and above.
Nock
The notch at the bottom of an arrow is basically what is referred to as a nock. A nock performs a number of vital roles, most notably controlling the arrow's rotation and making it fly more accurately. In addition to that, the nock also helps in making an arrow more lethal.
Crossbow Maintenance
One of the most important things you can do for both yourself and your crossbow is to ensure that you take good care of it. And how do you take good care of your crossbow? You do so by simply maintaining it. Not only can the lifespan of your crossbow be drastically reduced if you fail to properly maintain it on a regular basis but it can also cause you serious problems on the field, including issues with accuracy and sometimes even safety. Here are some of the most important maintenance tips that you can practice to extend the lifespan of your crossbow and keep it functioning at its peak all the time.
Lubricate the Rail
The rail of the crossbow needs to be properly lubricated on a regular basis in order to allow for reduced friction and smoother traction of your arrow. A well-lubricated rail contributes significantly to improving accuracy. Lubricating your crossbow's rail is very simple. All you need to do is apply two drops of an appropriate lubricant to the middle section of the rail and use your finger to gently spread it all over the entire length of the rail's surface. In keeping the rail lubricated, it is imperative that you never use any lubricant that is made of Vaseline because these lubricants easily collect dust.
According to experts, in the event that your crossbow becomes wet, maybe because it has been beaten by rain or has fallen into the water, you should instantly lube the rail.
Wax the Cables and Bowstring
Many specialists consider the regular waxing of the string and cables of your crossbow as the most important maintenance action that you can do. In waxing your string and/or your cables (in the event you are using a compound crossbow), you should always follow the guidelines or instructions in the crossbow's manual. Here, you'd see exactly how the manufacturer wants you to go about the waxing procedure and how often you should do it. These days, many crossbow packages come with tubes of wax to get the job done. However, if yours came without one, you will have no difficulty finding one designed specifically for your crossbow to purchase at any shop that deals in archery gear and supplies. The wax application process is easy. Just apply the wax all over the entire length of the string as well as the cables. In doing so, you should avoid allowing the wax to come into contact with any part of the trigger box of the bow. Once you have applied a sufficient amount of wax on the string/cables, use your fingers to gently but firmly rub in the wax. As you do this, the friction will generate heat that will melt the wax and make it stick properly on the string/cables.
You should take note of the fact that failing to routinely wax your bowstring can significantly reduce its lifespan.
Lubricate the Trigger Box and Mounting Bolts
In addition to the rail of the crossbow, the trigger box and the mounting bolts need to undergo lubrication on a regular basis too. In applying lubricant to the mounting bolts, focus only on the visible ones. Good examples of visible mounting bolts that need lubrication are the ones that join the stock and riser together. When these bolts are lubricated, they are protected from corrosion and other forms of damage caused by moisture from the weather.
Lubricate the Wheels/Axles
If you possess a compound bow, you should also make sure that the wheels/axels are regularly lubricated. When this is done, friction will be significantly reduced, which will, in turn, result in these components turning very smoothly. The end result will be a better experience for you on the field.
Oil Safety and Trigger Mechanism
The trigger mechanism and the safety slide of your crossbow need oiling. Oiling them at least once every year will keep them working perfectly. The oiling will also save the safety slide from rusting or becoming frozen.
Clean the Lens of your Scope
Scopes help you improve the accuracy of your shots. The cleaner the lens of your scope is, the higher your chances become of enjoying very accurate shots. This is the reason why you should always ensure that your scope is properly cleaned. In doing the cleaning, it is highly recommended that you make use of only good products designed for cleaning lens such as lens cleaning wipes. Don't use any abrasive materials on the lens since that can damage it.
Tighten the Nuts and Bolts
As a result of things such as too much vibration that often accompany many crossbows, nuts and bolts often become loose. This is the exact reason why it becomes imperative that you routinely check all the bolts and nuts on your crossbow and tighten any that are loose. Why is this important? Nuts and bolts that are loose can easily fall out and cause your crossbow to malfunction. Also, loosened bolts have the tendency of creating a great deal of noise and scaring away the animals that you are hunting. We normally recommend that after every 50 to 100 arrows that you shoot, you take a moment to check the bolts and nuts of your crossbow to find out whether or not they need re-tightening. Tighten them if they are loose.
Never Dry Fire
You should try your possible best to never dry fire your crossbow if you want to protect both yourself and your crossbow. In the event that you accidentally dry fire your bow, you should check it thoroughly for any signs of damage. If the arrows or the crossbow itself is damaged, you should not use it since it can pose safety issues. Send a damaged or faulty crossbow to a crossbow repair or service shop near you for them to professionally have it fixed.
Clean the Crossbow
We cannot talk about the topic of maintaining your crossbow and not mention how important it is to keep all the components of the bow free of dirt, dust and other debris. Frequently devote a few minutes of your time to thoroughly clean all the parts of your bow – especially after you have returned from your adventure in the woods. The cleaning process tends to be easier and more effective when you use a compressed air can.
NOTE: Before going ahead to use lubrication on any component of your crossbow (especially on the rail), it is advisable to remove any visible dirt or dust.
Inspect Crossbow before use
It is highly recommended that before using your crossbow, you take time to properly inspect it to ensure that all components are in sound order. In doing so, particular attention should be paid to such components as the limbs, bolts, shafts, and string. The regular inspection of your bow will help you in quickly identifying problems and solve them the moment they start springing up instead of waiting until the problems deteriorate and cause great damage to your weapon or even worse cause you injuries.
Obey Manufacturer's Instructions
If you want your crossbow to last long and perform well all the time, you should always use it in accordance with the guidelines and instructions given to you by the manufacturer. Failure to follow the usage and maintenance instructions in the manual that accompanies the crossbow often always leads to unpalatable consequences.
Get a Protective Case
We conclude by advising that you get yourself a good high-impact case for safe and convenient storage and carriage of your crossbow. A good crossbow case would often come with important qualities such as well-padded interiors and durable exteriors to not only keep your crossbow protected but also your bolts/quarrels and other accessories that it comes with.
Crossbow Glossary
We would surely have done our cherished readers a great disservice had we completed this guide on crossbows without including a glossary. Below are the concise definitions of some of the most popular terms you are likely to come across in the world of crossbow:
FPS (Feet per Second): This is the measurement of the speed at which a fired arrow/bolt travels.
LOP (Length of Pull): LOP is defined as the length between the middle of a crossbow's trigger and its butt. LOP is a very important factor with regard to the accuracy of shots.
Quarrel/bolt: A quarrel and a bolt are basically the same. They are both arrows used in a crossbow. Owing to this, both words are often used interchangeably in the crossbow world.
Cocking Aid/Device: This is a device that assists the hunter/shooter to easily cock and shoot their crossbow by reducing the poundage pull and decreasing cocking tension.
Rope Cocker: A rope cocker is one of the variants of a cocking aid/device that is attached to your crossbow's string to help reduce the amount of energy needed to cock your crossbow. A rope cocker can decrease cocking tension by up to 50% and is compatible with most crossbows on the market.
Safety: A safety system, as the name implies, is a safety mechanism that prevents a crossbow from firing when it is cocked, whether the trigger is deliberately or accidentally pulled. This is one of the most important features of a crossbow as it prevents premature or unsafe firing. A safety system can either be automatic or manual. When it is automatic, it automatically engages the moment the crossbow is cocked. An automatic safety system is better than a manual one.
Suppressor: A suppressor is a device that is attached to either a crossbow's string and/or limb(s) in order to reduce its noise output when fired.
String Stop: This is a small piece of rubber that attached to the crossbow in order to cushion the string and reduce vibration during firing. String stops also help in reducing the noise a crossbow makes when fired.
Rail: This is the extremely smooth part of your crossbow where a ready-to-be-fired arrow (quarrel/bolt) is placed.
Arrow Track: This is a groove that the arrow lies on and travels through when you fire the bow. The arrow track can also be referred to as the flight track.
Rail Lube: This is a lubrication that you apply onto the arrow track to ease friction and allow the arrow to travel smoothly down the track when fired. It is imperative that you often lubricate the arrow track with a rail lube.
Kinetic Energy (K.E.): K.E. is the energy that every single object in motion possesses. A flying arrow's kinetic energy is determined by two things: its weight and speed. The more kinetic energy an arrow has, the more effective it can kill an animal.
Cam: A cam, which can only be found on compound crossbows, is that roundish wheel located at the end of the limbs of the bow. The primary function of cams is to reduce the loss of Kinetic Energy (K.E.) during firing by enhancing power while reducing the movements of the limbs of the bow.
Power Stroke: This is the amount of distance or length that the string of your crossbow will have to travel from a totally cocked position to an uncocked position when you fire your crossbow. The longer the length of the power stroke of your bow, the faster any bullet you fire is going to fly, and vice versa.
Draw weight: It is the highest degree of weight, measured in pounds, that the archer/shooter is required to draw back the limbs of the crossbow and cock it for firing.
Arrow Weight (Grains): This is the weight of your arrow. Grain is the unit for measuring the weight of arrows.
Muzzle Energy: This is that energy that a bolt/quarrel (arrow) possesses as it is propelled from the end of the muzzle of a crossbow. The muzzle energy of a crossbow is calculated by a number of things, most notably the bow's draw weight, the weight of the arrow, and the power stroke of the bow.
Stock: This is the part of a crossbow that is held or placed on the shooter/archer's shoulder when he/she is firing or ready to fire. The stock can either be wooden or made of composite materials.
Foot Stirrup: The stirrup is a very strong metal ring installed on a crossbow to assist the shooter in effortlessly cocking the bow with the use of his/her foot.
Trigger: Is that mechanism on the crossbow, which is responsible for releasing the string of the bow and launching your arrow.
Dry Fire: "Dry fire" is the process of shooting your crossbow without an arrow that is placed in the appropriate shooting position. This is an extremely dangerous thing to do since it can cause a great deal of damage to your crossbow or even worst injure you or someone near you.
Anti Dry Fire: This is a system that prevents dry firing. It is very useful in protecting your crossbow and keeping you and the people around you safe.
Quiver: This is the case or place where arrows are held or carried safely. Depending on the manufacturer, the quiver of a crossbow can be permanently mounted on a crossbow or removable.
Latch: When you cock your crossbow, the latch is the device responsible for capturing the string of the bow and holding it in place until you squeeze the trigger to release it.
Sight: This is the device that guides the shooter's eye when he/she is aiming at a target.
Nock: That notch at the bottommost part of an arrow is what is called a nock.
Crossbow Safety Tips
This guide would certainly not be complete without showing hunters how to go about using their crossbows safely in order to reduce the risk of any accidents. So without further ado, here are some of the most important safety tips we think all crossbow hunters should be aware of to enjoy safer and more productive hunting experiences.
When assembling, cocking, or loading your crossbow, it is imperative that you always put on safety glasses. You should also remember to wear these glasses when shooting the crossbow.
You should never walk, run or stalk with a crossbow that is loaded.
A crossbow should always be treated with the same level of caution that you treat a loaded firearm. For this reason, you should endeavor to keep it pointed in a direction that is always safe.
If you are going to be using a crossbow to be hunting from a tree stand, it is highly recommended that you cock the crossbow on the ground. Having done that, you should make sure it is unloaded before hauling it up the stand. You can use either a rope or a string to hoist or lower your cocked and unloaded crossbow. In doing so, make sure that the bow's front end is facing the ground.
At every moment in time, your fingers should always be placed below the rail of your cocked crossbow.
Under no circumstances must you ever dry fire your crossbow.
It is always advisable to ensure that the bolt is positioned very firmly against the crossbow's string before you shoot.
It is highly recommended that you never try de-cocking your crossbow by hand. The best and safest way to de-cock a crossbow is by shooting it.
Never shoot a bolt that is damaged.
Keep your finger away from the trigger if you are not ready to shoot.
Never take the crossbow's maintenance for granted. Regularly maintain your crossbow in accordance with the manufacturer's recommendations.
When not in use, your arrows should always be kept in a quiver.